We've been producing enough food to feed the total population on Earth for the last 50 years, so why are people still starving?
Meet Yuan He
Growing up in urban China, Yuan He was struck by the disconnection across different social groups in her rapidly developing country. Turning her back on a comfortable city life, she chose to follow her interests in development and in doing so challenged herself in the extreme. The road less travelled led her to food insecurity in rural India and China. Spending months immersed in the lives of some of the world's poorest people, Yuan was stunned by their generosity and saddened by their situation. She has now become passionate about giving a voice to those who don't have the power to speak for themselves.
Q: Where are you from?
A: I'm from Changzhou, China. It's in the Yangtze River Delta.
Q: Tell me something about the food there
A: We have a very seasonal food culture linked closely to the local environment. Everything is fresh. As my home town is close to the river we eat lots of fresh fish, shrimp, and crab bought live at the market, and we have green vegetables with every meal. My city isn't very big and it's surrounded by agricultural areas, so it's easy for farmers to sell their own vegetables at the market. The Yangtze River Delta has been described as the rice bowl of China; there's a lot of rain and an advanced river system that make it great for growing rice. Food is the most memorable part of home for me.
Q: Why are you here?
A: In China I trained as an economist. After completing an MPhil in Development Studies at Cambridge, I worked in London but didn't find it fulfilling enough. When I received a job offer from an international bank, I felt such a reluctance to sign the contract that I realised I had to change direction. I decided to come back to Cambridge and continue my studies at PhD level, in the same department. The PhD programme was long enough to allow me to take on some difficult challenges. 
Q: What's your research purpose?
A: I'm interested in India and China, and how the grand country-wide development policies have impacted the livelihoods of the poorest people there. These are the two largest developing countries and home to over 36% of the world's population. Their vast populations exacerbate development difficulties. There's a huge discrepancy between the populations that need to be fed and the constraints on resources. It makes development seem an almost impossible task. For my PhD I studied the poorest people in rural areas of India and China, because their voices are the least heard in the media and doing research about them is quite difficult.
Q: How is this related to Global Food Security?
A: On a global scale, we have been producing enough food to feed the total population on Earth for the last 50 years. In 2010 for example, we know that 20% more food was available than was required globally. But people are still starving. A large proportion of them live in Africa but also in India and China, which are both food surplus countries - they even export food to other countries. Why are people starving when there is abundant food to feed them? There has been a focus on increasing food production. This is important, particularly in African countries, but it's not enough. If you look at the reality it's a problem of food distribution. This is where social science plays a very important role. Getting food from the producer to the consumer is a question of how societies organise themselves.
Q: Where have you been?
A: I conducted observations, interviews, focus group discussions and surveys in two of the poorest states in India and China. I wanted to document what life is like for villagers there. In India I spent two months in a village in Bihar. Getting there took many hours on a very bad road. The village has no running water so people use a well for everything. The electricity supply comes and goes; on average they get two to three hours of electricity a day, but at random times. And it's very hot, above 40 degrees in summer. Without fans you perspire all the time even when you're sitting still. I tried to live as the villagers did, to experience their lack of adequate housing and their hunger. I ate with them but I got weak very quickly. The portions they provided were not enough for me and I had little energy. It was challenging to keep working and interviewing people.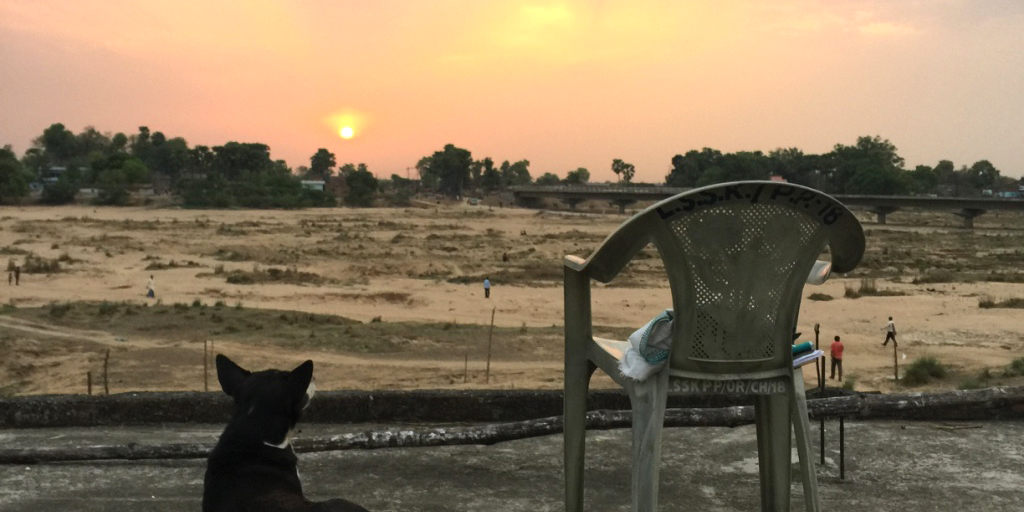 Indian countryside at Pariya, Bihar, where Yuan stayed
Q: What did you learn about the villagers?
A: I discovered that most people have a good knowledge about what constitutes a healthy diet, but they encounter all sorts of problems when it comes to actually getting enough food. The reality is they can't afford an ideal diet and even if they could, the transport links and the cold storage facilities aren't there. Their diet is very limited and they tend to eat the same food every day. This problem can't be solved by the villagers themselves. Things like roads, storage, and trade networks need addressing by the government. There should be an element of public welfare and infrastructure provision. To solve the problem requires a collaboration at many levels of society, including scientists and government, and that's why Cambridge's Global Food Security programme is so important in addressing these issues from many disciplines.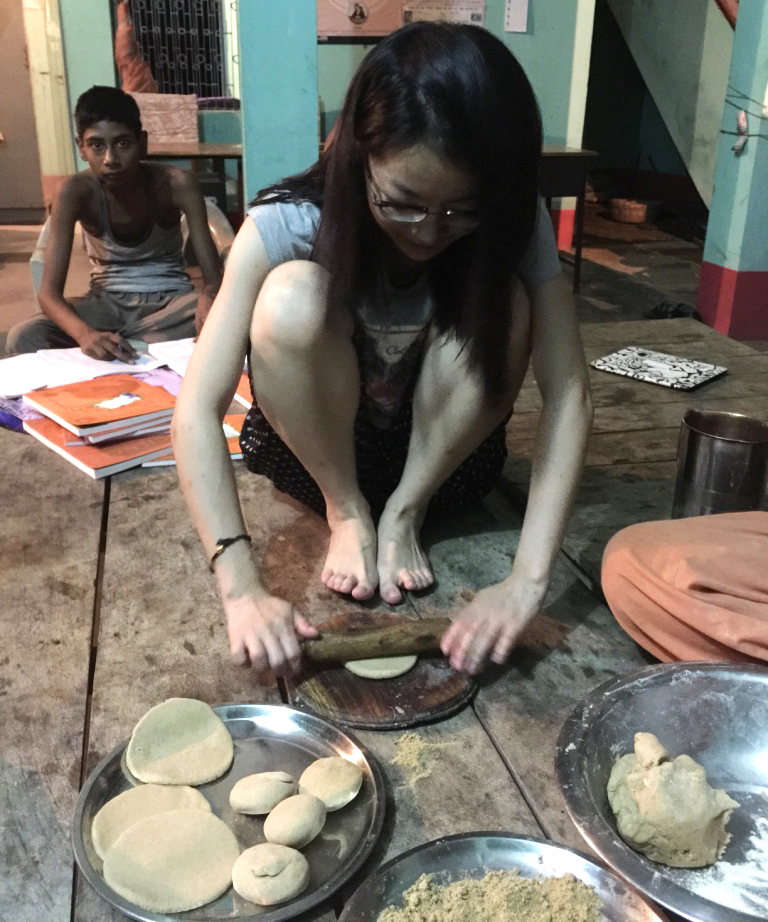 Yuan cooking in the Indian village
Q: Where are you going?
A: I'm just finishing my PhD, and then I'll be looking for an academic position. Research-wise, I want to examine other dimensions of life in addition to food and shelter, to make more comprehensive comparisons of India and China. I want to understand how these countries gradually developed to become so different from a very similar starting point. There are still lots of things to do!
Q: Do you feel like part of something bigger than yourself?
A: I come from China, which is a developing country, but before doing this research I was so ignorant about village life in China and India. Now it's very important that I make the realities known to people. Unknown problems can't be solved. The people in the village treated me very well, and I feel it's my responsibility to get their voices heard, make their problems known and keep them connected with other parts of the world. That's something bigger than me, and it encourages me to keep going. My work is not finished.
Q: What's the one piece of advice you'd give others who want to follow in your footsteps?
A: You are more capable than you think. I still remember the anxiety I felt before going to the village in India. I had no idea what was ahead of me, and looking back it was very difficult. But I survived. The most challenging part was the emotional burden in writing about the weight of life these people are carrying with them every day. I can leave and live a nice life elsewhere, but that's not an option for them. They are living that life all the time.
Q: What would make the world a better place?
A: For people who have a voice to use it well.