09 Jan 2013
A graduate of Cambridge's fledgling MPhil in Conservation Leadership returned last month to speak to current students about his vital work to protect the Amazon rainforest.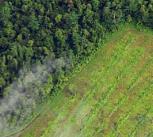 05 Oct 2012
New models are being developed to predict how changing land use in the tropics could affect future climate, air quality and crop production.
23 Dec 2011
In the second of a series of reports contributed by Cambridge researchers, zoologist Dr Ben Phalan ventures into a tropical forest to understand the impact of encroaching agriculture.
02 Sep 2011
Separating land for nature and land for crops may be the best way to meet increased food demand with the least impact on wild species.
19 Jul 2011
As the drive to increase food production gathers pace, conservation scientists suggest that reconciling food security with protecting biodiversity might require unexpected solutions.
31 May 2011
Current plans to mitigate deforestation could adversely affect rural poor.
People specializing in this area