22 Jan 2013
Worldwide 500 million smallholder farmers support a total of 2 billion people. A debate taking place in London next Monday (28 January) will put these producers at the centre of a discussion about ways to develop an agricultural model that will sustainably feed a growing population.
21 Nov 2012
With the world's population already estimated to be over seven billion and rising fast, the challenge of how to produce enough food has never been more pressing. Three public debates will give people the chance to hear from and question politicians, researchers and journalists on the issues at stake.
05 Oct 2012
A book by Cambridge University geographer Dr Emma Mawdsley provides a major analysis of the ways in which the 'rising powers' of the BRICS and others are changing the development landscape.
03 Oct 2012
The Corn Returns – market data from the 19th century and beyond – represent a valuable resource for economic historians looking at the emergence of modern agricultural markets. A project to make these records digitally available will help solve some of the big questions about the economics of the age.
07 Feb 2012
Conservation scientists working in partnership with practitioners and policy makers are building practical tools for real-world conservation.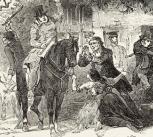 19 Jul 2011
A new book by a Cambridge University academic revisits one of the worst famines in recorded history. The Irish Famine of the 1840s had terrible consequences: 1 million people died and several million left Ireland. Today the world is watching as millions in Africa face a similar fate: starvation in the midst of plenty. Dr David Nally's analysis of what happened in his native Ireland less than two centuries ago reveals some shocking parallels with what is happening in Africa.
01 Jan 2010
Dr Zoltán Tiba's research on why famines happen is posing questions about the root causes and possible long-term interventions.
People specializing in this area