He was the first in his family to go to college rather than become a farmer, and he's now a Senior Lecturer in Veterinary Public Health at the University of Cambridge and a consulting vet. Dan Tucker's latest work has taken him to the emerging economy of Myanmar in southeast Asia to look at the pig supply chain.
Meet Dr Dan Tucker
Brought up on a farm in Somerset, Dan Tucker watched the vet on his weekly rounds and decided that veterinary science would be the career for him. He was the first in his family to go to college rather than become a farmer, and he's now a Senior Lecturer in Veterinary Public Health at the University of Cambridge and a consulting vet. Dan specialises in pigs, and enjoys applying fundamental research findings to animals on the farm. He is particularly interested in the welfare of intensively produced livestock, and his current work has taken him to the emerging economy of Myanmar in southeast Asia. 
Dan (left) in Myanmar collecting non-invasive samples from pigs for disease monitoring
Q: What's the point of your research?
A: I'm currently looking at the pig supply chain in Myanmar, and how it's adapting to the rising demand for meat as its economy is emerging. Through the Myanmar Pig Partnership, a multi-disciplinary project led by the University of Cambridge and funded by DfID with UK research councils through the Zoonoses in Emerging Livestock Systems (ZELS) programme, we aim to find areas where we can support culturally relevant training to promote better animal health, improve productivity, and improve food safety in the Yangon region of Myanmar. We are working to identify interventions that will become embedded and help build capacity for the future. This project sits in the context of my wider research interest in the entrenched endemic bacterial infections of pigs, especially those infections that also have potential to cause disease in people (zoonotic infections).
Q: Can you describe the work the team is doing in Myanmar?
A: The work is in two key strands. First, the partnership is building capacity by refurbishing the Yangon veterinary diagnostic laboratory and supporting advanced training in veterinary microbiology. Second we are gathering data on the diversity of pig meat supply chains in the Yangon regions, from a biological and from social sciences perspective. The vets are asking about disease and mortality, sampling to study pathogen prevalence and measuring farm productivity. We're also asking about inputs such as antibiotic usage and feed usage. The social scientists are studying the narratives of people across the pig supply chains, from farmers, to the vets and policy makers, to the slaughter workers, to the retailers who sell the meat to consumers. They're trying to understand why people do what they do, in relation to their perceptions of the risk of livestock disease and associated human disease, and also in terms of productivity and making money from their animals.
Q: How is this relevant to Global Food Security?
A: It will help to enhance productivity at the small-scale production level, and build capacity for disease surveillance and health management at country level as the supply chains progressively become more intensive. Intensive production alone isn't the way to feed the whole world at the moment, and there's likely to be ongoing dependence on small scale production. Combining the biological and social sciences data will help us to identify some low hanging fruit for targeted interventions. Currently, disease outbreaks can have major impacts - often a farmer can lose a whole litter of piglets, and it might be their only litter.
Q: What have you discovered about Myanmar's pig farming practices?
A: Pigs in Myanmar are part of the fabric of village life. They live closely with humans, acting as waste food disposal, or more correctly, recycling units. As a Buddhist country, families treat their pigs with huge respect and become very attached to them, handling them a lot. This has interesting implications for disease transmission. Many producers have just a few pigs; there are smaller numbers of mid-sized farms with perhaps 5-10 sows, and only a very small number of very large farms - although this is likely to change as integrated companies move across from China and Thailand. Regulation of antibiotic use is difficult to achieve, and there are a number of serious pathogens present that we would consider notifiable in the UK. There are huge opportunities to make relatively small but meaningful changes in animal management practices.
Q: Have you encountered any difficulties working with the farmers in Myanmar?
A: Managing expectations, especially communicating the time-frame of possible outcomes from the project, is an important step. Farmers understandably identify with anything that brings extra income through productivity, so we're working to develop interventions that are integrated packages, combining advisory support for disease control as well as enhanced production. Just one more piglet surviving from each litter is a major increase in profits, which at family level could determine the ability to access medical care.
Q: What challenges have you encountered in working with experts from other disciplines?
A: The key challenge is to mesh data from our social science and veterinary science surveys to identify the best and most achievable training objectives. We need to plan together how to implement interventions, primarily through culturally relevant training that also takes into account the socio-economic context. I've realised the importance of understanding people's behaviour and especially the structural constraints that stop them changing how they operate, before designing the biological research. That's very different to a traditional veterinary approach of going in saying 'I'm important and I can see immediately what needs to be done here.' There's huge benefit to be had from a genuine mutual recognition and respect for experience, skills and cultures. But it's sometimes still a real challenge to persuade others of the integral importance of the social sciences aspect of our work.
Q: Where do you have your best ideas?
A: On the plane to Myanmar, or to other destinations linked to research or clinical work. Getting on the plane, turning off the phone and realising you've got ten hours to think is great.
Q: What might other people be surprised to learn about you?
A: The majority of each working day is spent as Senior Tutor at Pembroke College. There I'm responsible for the academic endeavour and pastoral support of around 650 students, in all their multidisciplinary glory, ultimately helping them on their way to going out and doing their own bit for the world and society.
Q: What's the best piece of advice anyone's ever given you?
A: Not to ask other people to do things I wouldn't be prepared to do myself. Of course, we have to delegate but I think it's about flat hierarchies, and recognising that everyone in the team has valuable and diverse skills that, together, deliver the project outcomes.
Q: Who or what inspires you?
A: My agricultural roots inspire me to work hard. I'm also inspired every day by the sheer breadth and diversity of intellectual expertise within Cambridge and especially in College life. And I love talking to farmers; although being shouted at by them as a junior vet when I was younger was less fun! But it was great training in the value of not always taking life too seriously, and sticking to a calm and objective approach that's based on evidence.
Q: How would you like to be remembered?
A: There's a huge opportunity in Myanmar to make a difference to daily lives through boosted incomes from improved pig production. It means children can go to school better equipped to learn, and families can get medical help. In many developing countries the pig is the family bank, yet it can also make the family so vulnerable, both economically through losses but also through zoonotic disease. I hope I'll be remembered for having treated people fairly and objectively. And if I can make an improvement to people's lives, that's a good thing. 
View a photo story about the Myanmar Pig Partnership here.
The project partners are:
University of Cambridge
The ESRC STEPS centre (Institute of Development Studies/University of Sussex)
University of Oxford Clinical Research Unit in Vietnam, Nuffield Department of Medicine, Oxford University
Myanmar Livestock Breeding and Veterinary Department, Ministry of Agriculture Livestock and Irrigation.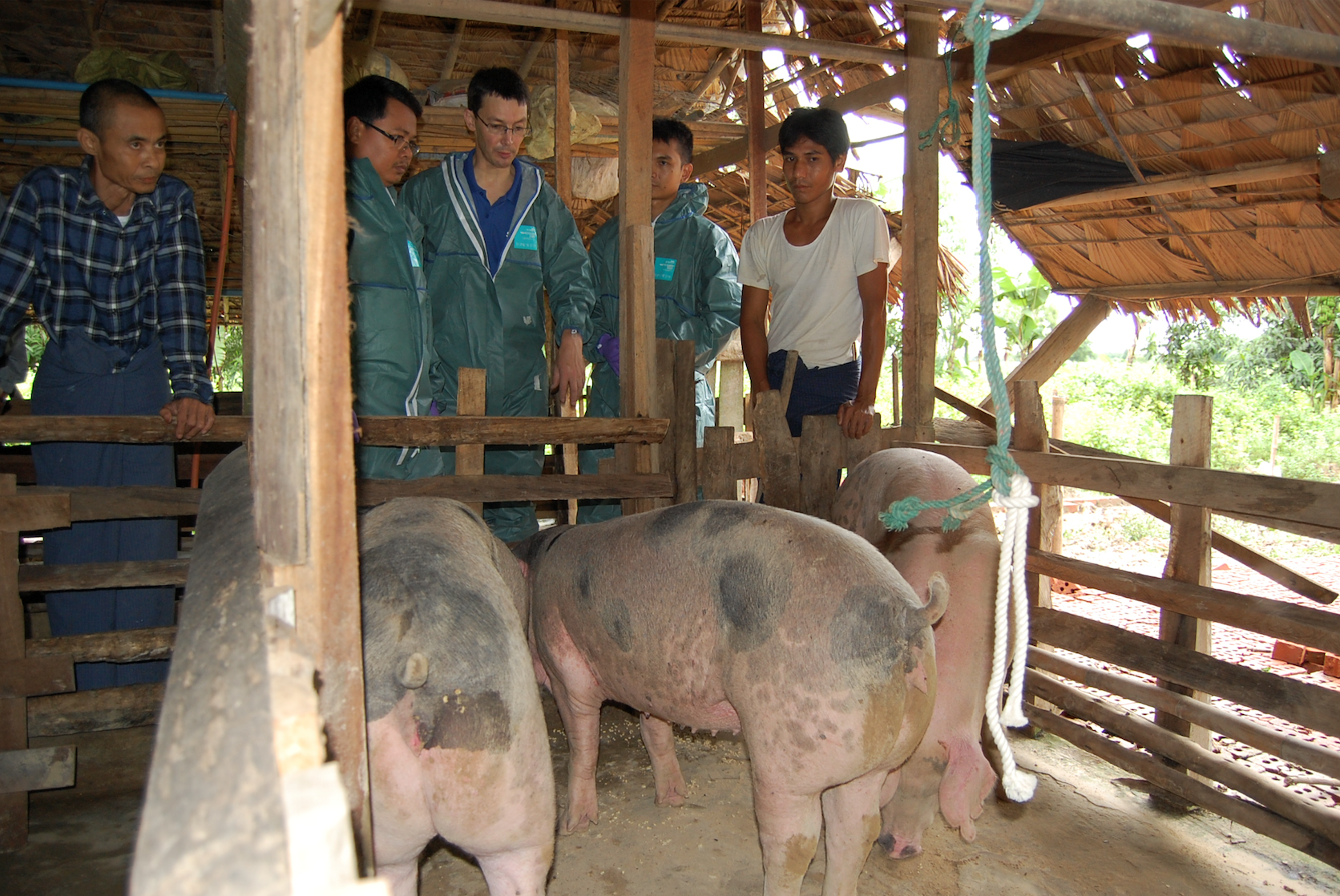 Collecting non-invasive samples for disease monitoring. Pigs chew the rope, saturating it with oral fluid which is then collected and stored for future disease surveillance.